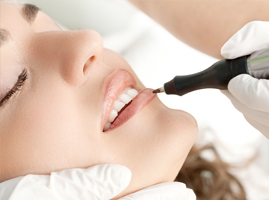 If like many ladies, you're looking for a fuller, more defined pout, semi-permanent lip tattooing is the perfect way to restore youthfulness, symmetry and colour to the lip area. The colour will not fade or smudge throughout the day and in many cases all that is needed is clear gloss for a day to day look.  Lip blush is perfect for those clients who would like to enhance the lips they have without resorting to filler. This procedure can even out an unsymmetrical cupid's bow whilst still maintaining a natural look. Many ladies opt for the lip blush treatment to define their natural lips as with the contour aspect of this treatment, this creates a fuller look by working with what you already have, but just enhancing this.
With a variety of semi-permanent lip tattoo procedures including; lip blush, liner and full-colour tint, clients can pick the perfect treatment to create beautiful lips, 24 hours a day.
The lips are contoured along the natural lip line, restoring shape and transforming any uneven lip lines. Then an infusion of lip pigment is added to the lips, which heals to a soft natural looking blush. There are no harsh lines and none of the dated, exaggerated lip lines from years gone by – instead, the lip blush and contour are always blended to create a soft, immaculate look.
To ensure you leave the clinic with a pout to be proud of, a full consultation will be carried out prior to the treatment.
Faye says; "As we age our natural lip colour tends to lighten and our lip line becomes less and less defined. Popular with A-listers including Angelina Jolie, semi permanent lip blush is the perfect option to create a fuller, more youthful looking pout. My clients are given a completely bespoke experience to ensure we achieve the perfect lip liner and colouring to enhance their natural beauty and give them an effortlessly full, sensual smile 24 hours a day."