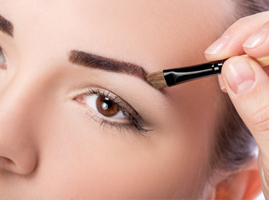 With no permanent makeup involved, this luxury brow treatment is created by using a custom blend colour tint, followed by a combination of HD brow waxing, threading, tweezing and trimming.
Finally the brows are perfected using powders, pencils and gels from the luxury HD makeup collection to create the ultimate, well groomed look.
To ensure that clients leave feeling a million dollars, a thorough consultation will be carried out prior to the treatment. A specialised 'brow mapping' service will be used to make sure that your fabulous new brows suit your face shape, colouring and personal preference.
Faye says; "HD brows are an absolute must for the glamourous girls of the North West, and it's great to see the trend spreading out of Liverpool and across the UK. With no need to go under the needle, these high definition eyebrows are created by shaping and threading then perfected with our luxury HD makeup collection. Having been made even more popular by the likes of the beautiful Cara Delevingne – who is renowned for her striking brows – this look defines and frames the face beautifully and perfect for anyone who doesn't necessarily want to commit to a semi-permanent makeup procedure."